2018 Conservation Lottery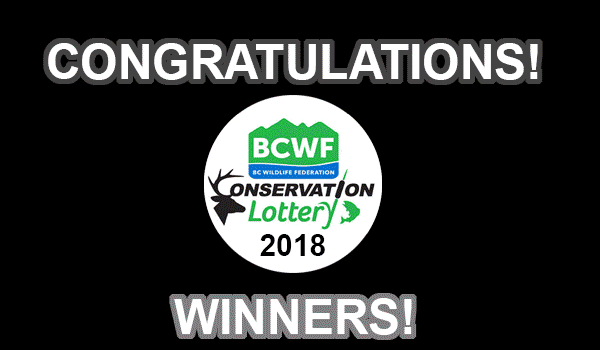 CONGRATULATIONS TO OUR
CONSERVATION LOTTERY WINNERS!

Your participation in the 2018 Grand Prize Lottery
helped us raise over:
$150,000
For the The BCWF's 2018 Wildlife Restoration Objectives including:
The Southern Interior Mule Deer Project

Post Fire Moose Recovery

The Heart of the Fraser and Protection of Sturgeon and Salmon Habitat

Interior Fraser Steehead (IFS) Recovery



As well as our invaluable inhouse programs including:
The Wetland's Education program, which prides itself on community-based wetland education programs that increase the capacity of individuals to steward wetlands in their own backyards!




The Wild Kidz and Go Wild! Camps, where youth throughout BC can learn about the importance of conservation and their role in sustaining the health of fish and wildlife resources




The Becoming an Outdoors Woman (BOW) program, where women learn outdoors skills and conservation stewardship techniques in a fun, relaxed and non-competitive atmosphere




The Fishing Forever program, where people of all ages, abilities, and mobility challenges have the opportunity to learn to fish and enjoy the outdoors
Thank you to everyone who bought and sold lottery tickets!.

All proceeds go to help protect and restore BC fish and wildlife.
And the winners are.......
Grand Prize ($17,134 Value)
G3, Gator Tough Boat with Yamaha Jet Drive Motor
Winner: Lawrence Nelson, Merville, BC, Ticket #14379
2nd Prize ($16,990 Value)
GUNWERKS MountainX Precision Hunting Rifle Package
Winner: Kay Peters, Abbotsford, BC, Ticket #10859
3rd Prize ($2,900 Value)
WESJET Gift of Flight Voucher
Winner: Brian Saterno, Powell River, BC, Ticket #08525
4th Prize ($1,700 Value)
VORTEX Viper HD 10x42 Binocular & Ranger 1500 Rangefinder
Winner: Jamie Tooze, Vancouver, BC, Ticket #17616
5th Prize ($1,700 Value)
KUIU Icon Pro 7200 Backpack Full Kit & Mountain Star 2P Tent
Winner: Joel Lirot, Vancouver, BC, Ticket #13382
6th Prize ($1,400 Value)
YAMAHA EF2000is Generator
Winner: Caitlin Prebushewski, GroundBirch, BC, Ticket #18226
7th Prize ($1,000 Value)
GREAT RIVER FISHING 4 Person/ 8 Hour Sturgeon Fishing Excursion.
Winner: Geoff Lucas, Bonnington, BC, Ticket #10463
8th Prize ($597 Value)
PACIFIC COASTAL Round-Trip for 2 From Vancouver to Victoria
Winner: Bob Fisher, Summerland, BC, Ticket #13097
9th Prize($500 Value)
ITALIAN SPORTING GOODS $500 Gift Card
Winner: Chris Beaulieu, Campbell River, BC, Ticket #08766
10th Prize ($500 Value)
MARK'S $350 Storm Tech Jacket and $150 Gift Card
Winner: David Norris, Salmon Arm, BC, Ticket #11708
11th Prize ($250 Value)
HUSKY $250 Gas Card and Plush Toy
Winner: Petros Kondos, Langley, BC, Ticket #01059
Early Bird Prize ($899 Value)
BASS PRO Redhead 40-Gun Safe
Winner: Peter Aussem, Lumby BC
We are already working to coordinate next year's Conservation lottery, stay tuned for details!
THANK YOU for your support!
The BCWF is British Columbia's largest and oldest conservation organization with over 50,000 Members passionately committed to protecting, enhancing, and promoting the wise use of the environment for the benefit of present and future generations.
You are receiving this email because you are an active BCWF member or Affiliated Club member, or opted in at an outreach event.
Visit www.bcwf.bc.ca for more information!
BC Gaming License #99885
Must be 19+ to play, Know your limit, play within it.
www.bcresponsiblegambling.ca
Follow Us on Social Media